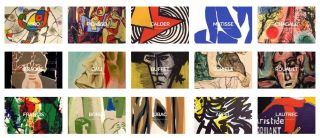 Fine Art Museum is a Publisher of Modern and Contemporary Fine art and an originator of Contemporary Sculptures always committed to excellence (B2B).

We acquire rare and collectible works of art, sourcing them from auction houses, expositions, art fairs, as well from private art collectors.

We provide (B2B) a distinguished selection of the finest works of art, framed or unframed, for collectors, designers and art galleries; Original Paintings, Lithographs, Woodcuts, Serigraphs, Posters and other Fine Art Prints, by established European and American artists as Calder, Miro, Chillida, Chagall, Braque, Matisse, Picasso and many more.

Our Exceptional Collection of Modern Sculptures includes creations in acrylic Lucite, Bronze, Stainless Steel and other medium.

We also provide a diverse selection of high-end wood frames and archival materials for museum quality framing. Our Framing facility has the capacity to supply all market's demands, including hotel projects.

We welcome regional and national Dealers and distributors; we can assure that you will discover our products are as well presented as they are cost effective.